TRUE BRIDESMAID BRIDESMAID DRESSES
Trying to find BLACKTIE accessories (vests, cummerbunds, neckties, bow ties, or pocket squares) to match your True Bridesmaid bridesmaid dresses?
---
BLACKTIE - Free Fabric Swatches!
Looking for BLACKTIE fabric swatches to coordinate with your True Bridesmaid bridesmaid dresses? Order free BLACKTIE fabric swatches today so you can effortlessly find the exact colors for your wedding.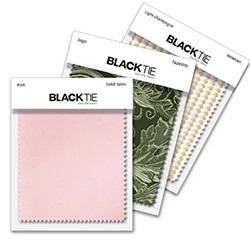 ---
Need More Help Coordinating Colors?
Usually the best way to coordinate colors is to order BLACKTIE free fabric swatches. However, we understand that sometimes you either don't have time to order swatches or you may just want someone else to suggest a fabric for you. Most bridesmaid/evening dress manufacturers send their fabric swatches to our BLACKTIE stylists. BLACKTIE then archives all fabrics and keep them in our "Stylist Fabric Library" for future reference. If you would like additional assistance in selecting BLACKTIE fabrics, please email us [fill out this form] and let us know which True Bridesmaid fabric you are trying to match; one of our stylists will then email you back with recommendations.