How can you feel like you own the room if you don't even own the clothes on your back?

- OWN THE TUX, OWN THE ROOM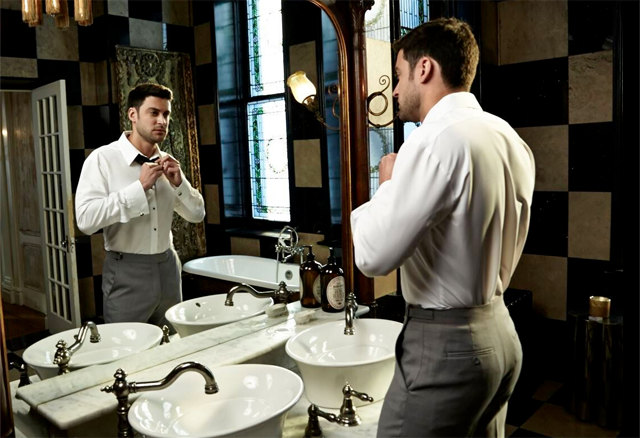 Guys ... do you remember the last time that you rented a tuxedo? Was it a pleasant experience? Did you feel inspired and confident? Or was it a little awkward, uneventful and somewhat tedious?
Wearing a tuxedo is an opportunity, not a chore. You should feel confident as hell and feel like you OWN THE ROOM! But, how can you feel like you OWN THE ROOM if you're renting a hand-me down garment that you have to return by midnight? Who are, Cinderella?

Dude, pull it together! You're not renting a persona for the night, you're expressing (and owning) the kickass individual that you are. Own the tux, own the moment, own it all!

Sure ... everyone would prefer to OWN their tuxedo if it was a reasonable option, but it's too expensive, right? Not any more ... welcome to BLACKTIE where we believe that it is possible to have a high-quality, stylish, and well-fitted tuxedo to OWN for the same price (or lower) as renting.
For too long, men's formalwear has been cast aside. In the world of "My Day" Bridezillas and potential Prom Queens, MEN ARE HAPLESS PASSENGERS, RELEGATED TO EMPTY SUITS, ARMS TO HOLD ONTO, AUTOMATONS WHO SPEAK THEIR LINES AND THEN MOVE OUT OF THE WAY.
To make wearing a tuxedo every bit as exciting, rewarding and transforming as a prom, wedding or red carpet dress - AND GIVE MEN BACK THEIR DAY!
BENEFITS OF OWNING VS RENTING

• Instead of using basic rental fabrics that have been around for half a century, BLACKTIE selects modern higher grade fabrics from prominent mills throughout the world.

• Zero signs of wear-and-tear; it's brand new! No need to worry about who rented the tuxedo before you.

• Instead of settling for a limited number of sizes & fits, BLACKTIE covers all sizes from 3 through 60. Updated patterns including modern fit & slim fit are available in most styles.

• Kick-Ass Sizing Algorithm developed by a Master Tailor

• Option to select pre-hemmed pants so your suit/tuxedo is ready to wear when you open the box!

ZERO STRESS &
PEACE OF MIND

Why wait for a tuxedo rental to arrive a few days (or even a week or two) before your event? What if you do need to change something? Do you really want the added stress of crossing your fingers and hope everything comes together only a few days before your wedding? Place your order online with BLACKTIE; we will then begin processing/shipping your order right away. You are in control and you decide when you want to receive it. Order it and try it on several weeks (or months) before your formal event.
DRESS IT UP,    
DRESS IT DOWN

• You own it; it's in your closet now! You'll always be prepared for a formal event; even if it's last second. (Yes, there is something sexy and attractive about a guy who is prepared).

• Be creative. Pair your tux jacket with a pair of jeans. Your BLACKTIE tuxedo is armor against a mediocre evening!


OWN THE TUX... OWN THE ROOM!


It's not just a tuxedo; it's armor against
a mediocre evening.